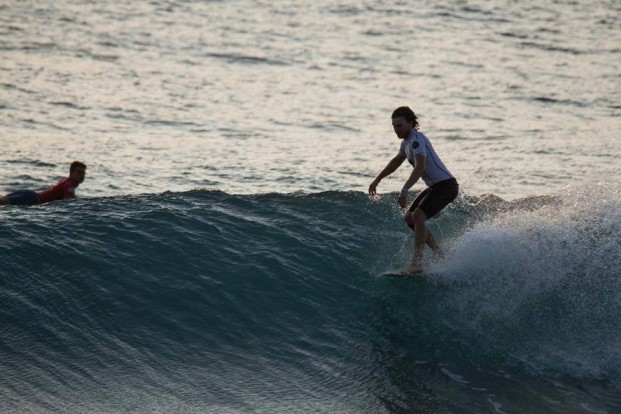 Outsports interviews pro who feared people would stereotype him
Surfersvillage Global Surf News, 2 December, 2015 – Since "Out in the Lineup", the documentary about gay and lesbian surfers, has travelled globally to a warm receptions at various film festivals, there has been more focus on the issue of surf culture and its acceptance, or lack thereof, of gay surfers.
The definitive online gay sporting journal Outsports took time to interview Out professional longboarder Craig Butler to find out about his experience coming out to the surf community. The following is a partial interview with Craig on Outsports.
Professional surfer Craig Butler came out publicly in a documentary film, Out In The Lineup, and everything has come up roses ever since. Not only have the reactions of his friends, family and fellow surfers been amazingly positive, but he reports he has since secured a sponsor in popular surfwear company O'Neill.
We caught up with Butler last week as he surfed the waves in Taiwan.
What were you afraid of before you came out on Facebook and in the movie?
I was afraid that people would think differently about me, that the Craig that people have known for years would no longer be and that the new me that they would learn to know about would ruin all of the respect and accomplishments I've achieved over the years.
I've tried so hard since I was a kid to be liked and to try to build a name for myself as a surfer. I thought that if people found out that I was gay that they would no longer want to be associated with me and would think of me as just another stereotype.
Did you get any negative reactions from surfers or anyone in the surfing world?
I was surprisingly shocked that I did not get a single negative reaction.
All the locals at home know that I'm gay, and they're not afraid to give me some harmless playful stick about it in the water. I like it that way, as I'm usually the one to instigate it. As a mate of mine that I do a bit of traveling with for surf put it, "If someone stops liking you for being gay, then what kind of messages does that breath about that person?" That is very true. I can't think of a single person who would want to hang around with a person who doesn't like someone for being LGBT. I only found that out after I came out.
There's a lot of love and equality in present-day Ireland. The dark days that our parents and grandparents grew up in are long gone. The Catholic Church no longer has a strong hold on everyone. People are no longer shamed and locked away in a closet. There was a landslide vote for same-sex marriage last spring In Ireland. Unfortunately I wasn't at home to vote, but it was really cool to see people — surfers, non-surfers, young and old — going out and voting "Yes" and urging people to do the same. I think everyone was happy in some way that they could be a part of a better future.
What was the best reaction you got?
The best reaction that I got was singly one of the most memorable moments of my life. It happened earlier this year while traveling in New Zealand with a group of childhood friends.
At the time there were only three of us. The other two lads are big into their women. One of my mates has known that I am gay since school, and my other mate I've gone to great lengths to hide to him the fact that I'm gay. He's a really good guy, but I just thought that because we had such a great friendship and that we spend a lot of time traveling and camping together on surf trips that he would no longer want to be a part of that and try to distance himself.