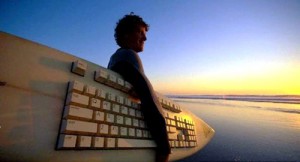 I joked with Thomas, the founder of GaySurfers.net, the first time I chatted with him on Skype, saying that I felt like I was meeting Unicorns ("You DO exist!") when I met him and those gay surfers at my first San Diego meet-up. I've surfed with lesbian ladies often but had never come into contact with gay male surfers and I was overjoyed! Since then, I have connected with those in many different countries via GS.net and I am reminded and comforted by the fact that we are one large family, bound by our life experiences, unique challenges and that amazing joy that is surfing.
On Tuesday, Thomas, Brian and I met via Skype to throw around some ideas on how to progress GaySurfers.net into the future. It turns out that our population has grown so large that the simple fees needed to keep this site up and running have increased as well. We need to come up with some ideas on how to keep this site going without allowing it to become a burden on any one of us.
We discussed in depth the delicate balance the web site is trying to achieve between being true to its mission and still being able to generate enough revenue to cover maintenance. While increasing membership for example is highly important, we would hope those joining have a sincere interest in some type of surfing related sport. As such the site currently includes any type of surfing craft from bodyboards to shortboards along with other related sports such as kite boarding and wind surfing. Members abilities range from beginners to professionals, yet we all share the same passion, being out on the ocean and riding waves.
One idea we had for generating revenue is to offer a premium membership that would open up options not available to free users (the site would remain free for everyone but we would offer an upgrade option for those who wanted it). Premium users would, for example, be able to create extended profiles with the ability to post more pictures than free users. A premium user would also be allowed to use a more sophisticated search engine. We are open to suggestions as to what features a premium user might want.
As an example, a $25/year premium service could include:
-advanced search (location, age filter, / waveski / longboard…)
-profile (more profile information can be filled in)
-photos – can upload more photos / bigger photos
-Wall – Can write on specific user's wall
-live chat
Google Ads is another revenue generating idea but we agreed that it is important that the ads not be overly obtrusive, simple and not annoyingly placed.
We encourage you to Contribute your stories and photos, to Donate if and when you can, and to Volunteer with us to help make this site a better place for us all. Check out the "Get Involved" tab at the top of the website!
We also value your opinions, feedback and further suggestions, on how to help this community, that has brought us all together, to continue to grow and be a haven for those seeking the community we all provide.
Thank you for your community, for your support and for your continuing stoke! We are looking forward to hearing from you!