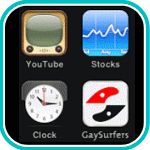 We would like to develop an IPHONE application for GaySurfers.net.
The app would let users see other members around them (similar to GRINDR). It would allow them to create events and send push notifications to invite other members to go surfing with them.
Are you an Iphone App developer ?Can you volunteer some time to help further develop our site by creating the app? If so, please contact Thomas.