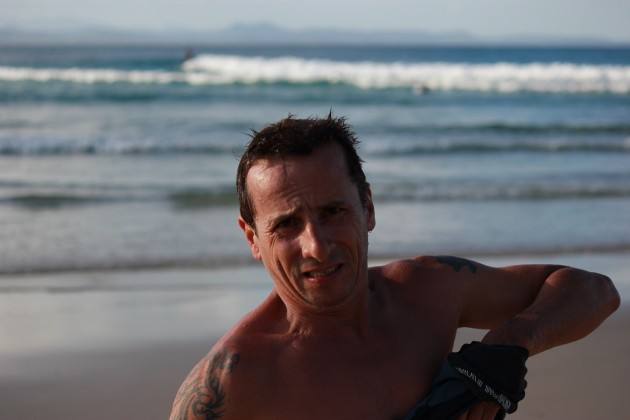 Take two Brazilians, an Aussie, a few boards, the week around New Years Eve and put them in Byron Bay, Australia, and things are going to get hectic! Add to the mix the end of a cyclone swell and the beginning of new South East swell and you may as well just batten down the hatches. If you want to rekindle your passion for surfing (and pretty much anything in general) hang out with some Brazilians for a week. That is, if you can dodge the very real (or very imagined) Facebook curse.
Just prior to visiting Australia, Marco (@anarco) had spent 3 months recovering from snapping his wrist back to his forearm…skateboarding for 47 year olds can be hazardous. The day I met him at Byron Main Beach he was nursing newly bruised ribs. The reason? 'I posted on thar Facebook to my friends in Brazil how amaaazing Byron Bay is – they jealous and curse Marco and bang – my board meet my ribs very damaging!' After a few days of pain-killers, his remedy was to surf in a short arm steamer, (it's the middle of summer), with an ice pack in it. Then, when not surfing, drink and laugh a lot!
Marco's best friend of 25 years is Renato, a terrific guy with a great smile and a passion for all things. This life-long friendship is built on the 'Blah blah' factor – which includes a great propensity for talking and laughing about absolutely nothing…constantly. Renato would bookend the longboard with Marco and carry it down the beach so that Marco could try and paddle out with his busted ribs. He'd then take photos of Marco surfing while in the process achieving UBFS (Ultimate Best Friend Status).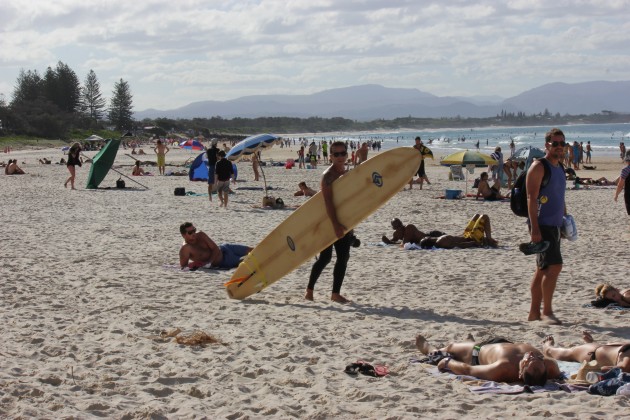 Renato's birthday was on the 30th and The Buddha Bar was the perfect place to celebrate it. Excellent because of cheap drinks, good food, great music and it was just around the corner from their JUICE campervan parked at the Tourist Park. Of course the only lesbians in the place found us and helped make the night unforgettable – although most of it can't be remembered. During the night, Renato posted on Facebook 'Byron Bay is playmobile land! It is perfect!' That morning, he woke to bad pain in his lower back and Marco announcing 'It is thar Facebook curse!'
New Years Eve on Byron beach was full of people, fireworks and naked swimming and we watched all this through the Champagne spray that Marco insisted on soaking the crowd with (a wonderful Brazilian News Years Eve custom). It was Renato's bad back which kept our clothes on (thankfully).
Byron life is easy to take. Surf till early evening, drinks under the Paperbark trees, late dinner and conversation under the stars till sleep. Then do it all again the next day.
Byron life then became Brunswick life and the last few days were spent with Ken (@monterey2024) at Brunswick Heads. Ken is my best friend any many years ago achieved UBFS – my life of surfing has been filmed by him. Paperbarks were replaced with patio furniture and the chooks and abundance of beautiful birds that visit the yard kept our cameras clicking.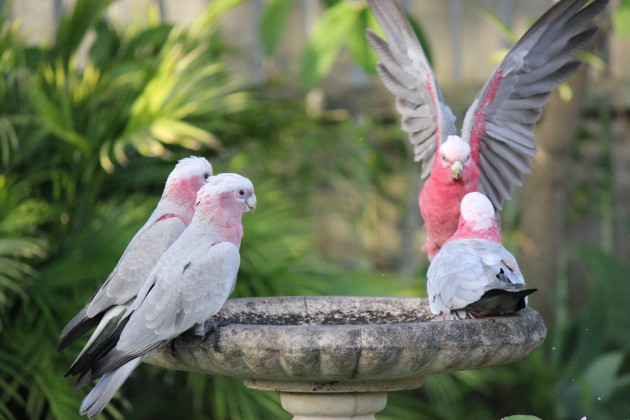 We finished the last day with a surf and walk along Brunswick Heads beach. Along the way I kicked my toe on a buried tree stump. Marco just looked at me. Renato began explaining how he was always stubbing his toe when walking in Brazil. A beautiful dog then ran up to us with a ball in its mouth and dropped it at Marco's feet to throw. The dog had found an instant friend. Renato asked for a go at throwing. He grabbed the ball, started his run up, I heard a crack as he stubbed his toe and instead of the ball launching forward…it dribbled down his back. He'd fractured his toe. Limping home, Renato's newest pain was getting worse. Ken asked how his foot was and he responded 'Argh my sore finger…remember me not!' It was actually his toe…but a finger is as good as a toe – especially when there's a Facebook curse to deal with. You can only guess Marco's reaction.
My parting gift to my new friends was a short film of their stay in Byron Bay.
International friendships are a beautiful thing!

Story by David Wakefield for GaySurfers.net posted January 5th, 2012.
(david@gaysurfers.net)